Best BBQ Lunch in Chicago: Sweet Baby Ray's
This post was written by:
amit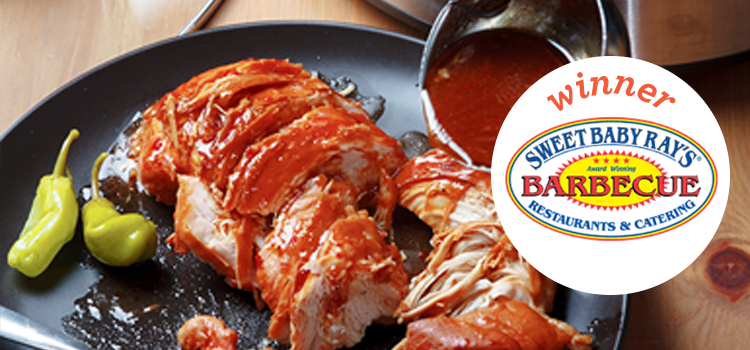 When you've been making award-winning BBQ sauces and rubs for over 30 years, it's safe to say you have a mastery of the grill. Now, Sweet Baby Ray's has taken the tongs into its own hands with a mouthwatering lunch menu that's earned it the honor of Best BBQ Lunch in Chicago in the 2016 Best of Fooda Chicago Awards.
We sat down with Director of Culinary Duce Raymond to chat about what makes Sweet Baby Ray's the absolute best BBQ in Chicago and even got him to share one of his favorite recipes.
Why do you think consumers voted Sweet Baby Ray's Best BBQ in Chicago?
The name Sweet Baby Ray's is synonymous with BBQ. Everyone knows our name because they've been using our sauces for 30 years. In the kitchen, we don't take any shortcuts – we use the freshest ingredients and everything is made in house.
What inspired your best masterpiece?
I love cooking competition style ribs. I've won awards all over the country, including 'Best Ribs' at Naperville's Ribfest.
What is your favorite dish to make, and what is your favorite food to have someone else make for you?
My favorite thing to make is ribs, but my favorite thing to eat is soup. When you go over to someone's house and they've made a big pot of soup or chili, you know they've put a lot of time and effort into that meal.
Do you have a recipe we can share?
This is our recipe for coleslaw. It's the perfect balance of sweet, savory and crunchy.
Creamy Coleslaw
Ingredients:
2 cups mayonnaise

1 cup sour cream

½ cup apple cider vinegar


1 cup sugar

2 Tbsp. kosher salt

1 Tbsp. freshly ground black pepper


2 lbs cabbage, shredded

1 medium carrot, finely shredded

½ cup green onion, thinly sliced
Intructions:
Combine all of the dressing ingredients in a large mixing bowl and whisk until combined. Mix the dressing and the rest of the ingredients and chill in the refrigerator until ready to serve.
Note: Prepare the dressing the day before you intend to make the coleslaw.
What are some food trends you're seeing in Chicago?
People are looking for healthier options. Kale and quinoa are really popular and we use them a lot in our salads.
What are your future plans for Sweet Baby Ray's?
We merged our three brands in the last year to create SBR Events Group. We're trying to grow that company, do more events with Fooda and become one of the biggest caterers in Chicago.
Duce, thank you for stepping away from the kitchen to share your passion for all things smothered in BBQ sauce with us. The foodies have spoken and they've named Sweet Baby Ray's the Best BBQ Lunch in Chicago.