Best Latin Lunch in Chicago: Maria's Brazilian Kitchen
This post was written by:
amit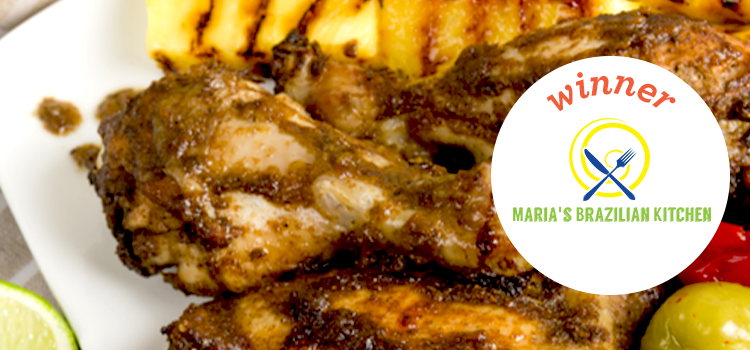 Bringing Chicago's most drool-worthy Brazilian cuisine of churrasco chicken, coxinhas, kibes and risoles, Maria's Brazilian Kitchen (previously Fogo 2 Go) always satisfies. Daniela Bettinazzi Kollar, born in Sao Paulo, Brazil, is a third-generation restaurant owner and bringing Chicago the best of this lively cuisine. 
Why do you think Chicagoans voted Maria's Brazilian Kitchen Best Latin lunch in the city?
We're experiencing a lot of exposure from popups as we get to share our love of Brazilian food and culture with more people. And of course, the food is so bright and flavorful—it speaks for itself!
What inspired your best masterpiece?
Our charbroiled chicken is our way of bringing the flavor of the Brazilian backyard BBQs we love so much to Chicago.
What's your favorite dish to cook, and what's your favorite dish to have someone else cook for you?
I love making Moqueca, it's a really simple and flavorful cod fish stew with coconut milk, peppers, and onions. Get the recipe here.
My favorite dish to have made for me is Feijoada, Brazil's national dish. It's a heavy and deeply satisfying stew made from pork, beef, beans, and often—orange peel. In Brazil, it's made typically on Saturdays and Wednesday's—as the best cooks use all their leftover ingredients throughout the week. Feijoada itself is an expression of love since it takes some time and some care to make.
Are you seeing any Brazilian food trends in Chicago?
I don't know if it's considered a trend, but there are now five Brazilian restaurants here, and they all seem to be thriving! Chicagoans seem to be developing a growing affection for all things Brazilian.
What are your future plans for Maria's Brazilian Kitchen?
We're going to expand our catering and look into a brick and mortar location in the loop.
Daniela, obrigado for giving us a taste of Brazilian food and culture. The full bellies have spoken and they've named Maria's Brazilian Kitchen the Best Latin Lunch in Chicago.