Best Mediterranean Lunch in Chicago: Pita Heaven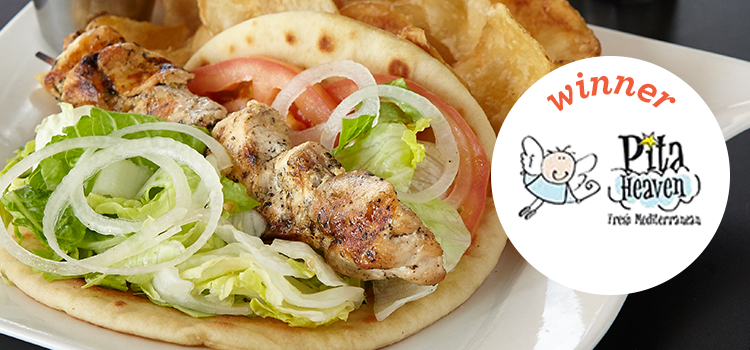 In the food desert that is the South Loop, Pita Heaven is an oasis for hungry Chicagoans who appreciate authentic Greek cuisine. We caught up with owner Adam Kafkes to learn the secret to his tender, juicy gyro meat and how he dominates the lunch scene in Chicago.
Why do you think consumers voted Pita Heaven the Best Mediterranean Lunch in Chicago?
Our food is made fresh daily. We offer a wide variety of menu items from chicken kebabs, to gyros, to salads, to falafel. All of our produce is local and prepared in-house every day.
What inspired your best masterpiece?
My wife and I are from Greece, where we owned and operated our first restaurant. This inspired our best selling gyro at Pita Heaven. The lamb is slow-roasted over a fire, which yields tender, succulent meat and gives it juiciness and flavor.
What is your favorite dish to make, and what is your favorite food to have someone else make you?
My favorite dish to make is chicken kebabs. We cut the meat into small pieces and marinate it in traditional Greek flavors like garlic, oregano and white pepper. Being Greek, my favorite food to eat is lamb.
What are some food trends you're seeing in Chicago and/or specific to Mediterranean cuisine?
People are looking for a variety of menu options that are made fresh daily. Our zucchini cakes, gyros and chicken kebabs are our most popular items.
What are your future plans for Pita Heaven?
We do a lot of catering for Chicago Fire and Empire, which has helped spread the word about our authentic Greek food. We're planning to open two or three more stores in the future.
The falafel-lovers have spoken and they've named Pita Heaven the Best Mediterranean Lunch in Chicago. Think this South Loop restaurant has what it takes to win top honors?