Restaurant Roundup: The Slide Ride (Chicago)
This post was written by:
amit

Food Truck Name: The Slide Ride

Location: All Over Chicago
Restaurant Location: Frite Street, 3006 N. Elston Ave. (Avondale neighborhood, Chicago)
Website: www.theslideride.com , www.fritestreet.com
Fooda Partner Since: December 2014
The Lowdown: The Slide Ride is Chicago's Gourmet Slider Food Truck and a Fooda popup and catering favorite. Recognized as one of the 101 Best Food Trucks in America by The Daily Meal, Foodizens near and far flock to The Slide Ride for lunch. Owner and Executive Chef, Nida, brought the food truck to life 4 years ago. What started as a small operation with her first few employees being friends and family, has grown tremendously. In November 2014, Nida opened up a brick and mortar restaurant, Frite Street, in the Avondale neighborhood and hopes to open a 2nd location soon.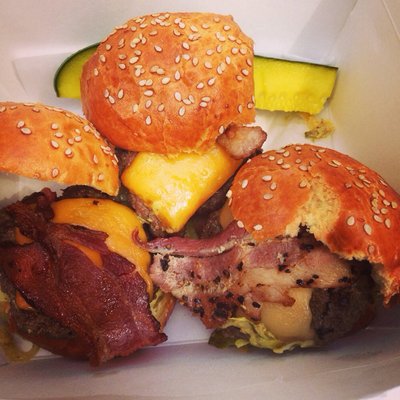 Food Truck Fun: With delectable items like the bacon baby burger, the caprese slider and the Guinness burger, The Slide Ride's catering schedule books up quickly! The Slide Ride caters at BeerFest and Roscoe Village's BurgerFest. It parks at local breweries and rides in the St. Patrick's Day parade. They've even served the cast and crew of Chicago Fire. Manager, Ashley, says one of their most unique events was parking and serving a summertime trapeze class near the lakefront. How cool!
Media Madness: Not only is The Slide Ride active and popular on social media, but numerous media outlets have tasted, reviewed and raved about their menu. Awards and features include:
– Chicago's Best – Bacon Baby Burger
– Hellmen's "Love at First Bite"
– Thrillist: Chicago's 8 Best Food Trucks
Hungry for more? Check out The Slide Ride on Twitter and Facebook