Take a Fascinating Peek into Belizean Culture with Chicago's Garifuna Flava
When your family-owned Caribbean restaurant is featured on the Food Network's "Diners, Drive-Ins & Dives", Chicago's "Check, Please," "Hungry Hound", and "Chicago's Best" – you might know a thing or two about this vibrant cuisine and culture.
Owner and Belizean native, Hussein Castillo shares his passion for culture and history, and tells us what Guy Fieri couldn't get enough of during his visit to Garifuna Flava – you might be surprised!
First of all, what does the name, "Garifuna Flava" mean?
Our restaurant is named after the Garifuna tribe (pronounced, ga-RI-foo-nah), a rare ethnic group of only 500,000 people from the shores of Central America who you'll find sprinkled throughout Belize, Guatemala, Honduras, and Nicaragua.
With such a small ethnic group, how do you keep the culture alive?
Through the food! History is very important to my family and our people – opening the restaurant was part of this initiative to share our culture. The best part of the Garifuna dining experience is learning about the culture and history and how it relates to our flavorful food.
Many have never heard of the Garifuna people. We're happy to share the language, music, and art with our customers.
The food is a mosaic blend of Latin, African, and Caribbean. People from Trinidad to Brazil to Ghana say it tastes just like what they ate growing up at home.
Garifuna Flava has been a popular southwest Chicago spot for a while – how'd you get started?
We've been here for eight years now! My mother is passionate about food – She learned how to cook from her mother and grandmother, and has even created a bunch of cookbooks just for the family. Friends and family have always loved her cooking. Before opening the restaurant, she was working in accounting and going to school. She never really considered opening a restaurant – until my father brought it up and we all agreed it was a great idea!
Yelp! reviewers rave about your jerk chicken – What else should we try?
Our jerk chicken is definitely popular – popup customers especially love the smokey and spicy flavors. Other customer favorites are the panades – corn (masa) patties stuffed with sautéed buffalo fish, and the conch fritters – minced conch seasoned with Caribbean spices.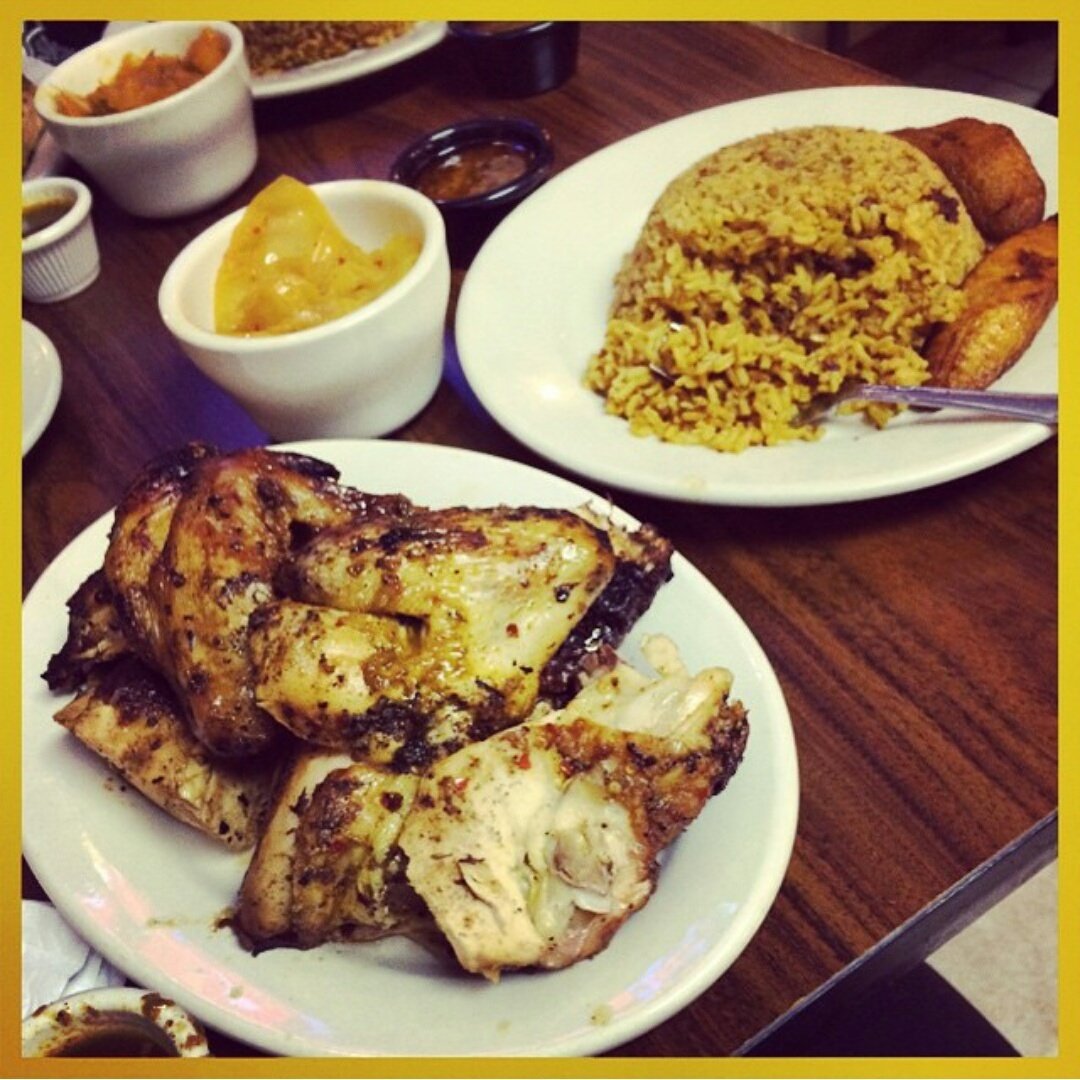 What I love about our menu is there's something for every palate – lots of seafood, chicken, and stewed beef. Our Belizean Stew Chicken is our simple and flavorful national dish, especially if you prefer mild spices. You'll also find lots of vegetarian options such as steamed cabbage, vegetables, and rice and beans cooked in coconut milk. And if you like spicy food, scotch bonnet peppers and habaneros add heat to our popular dishes.
What was it like behind the scenes with "Diners, Drive-In's & Dives"?
It was a fun experience! It blows my mind that 8 minutes of television takes 26 hours to come together. Since the segment was called, "You Can Only Get It Here", we wanted to feature our most unique dishes, so we prepared our fish panades – Guy Fieri must have eaten 20 of them! We also featured our traditional signature Garifuna dish, Hudut Baruru Falumou, a special occasion soup usually prepared on the weekends – king fish cooked in coconut milk stew and seasoned with black pepper, onions, garlic, oregano, and other Caribbean spices.
Guy's favorite dish was the split peas and pigtail – He couldn't get enough of it! After the episode aired, people came in from all over the world to try it. One customer came in every day for two weeks straight requesting it.
How can we bring a taste of Belize home?
This is our recipe for slow-cooked Belizean Chicken Stew: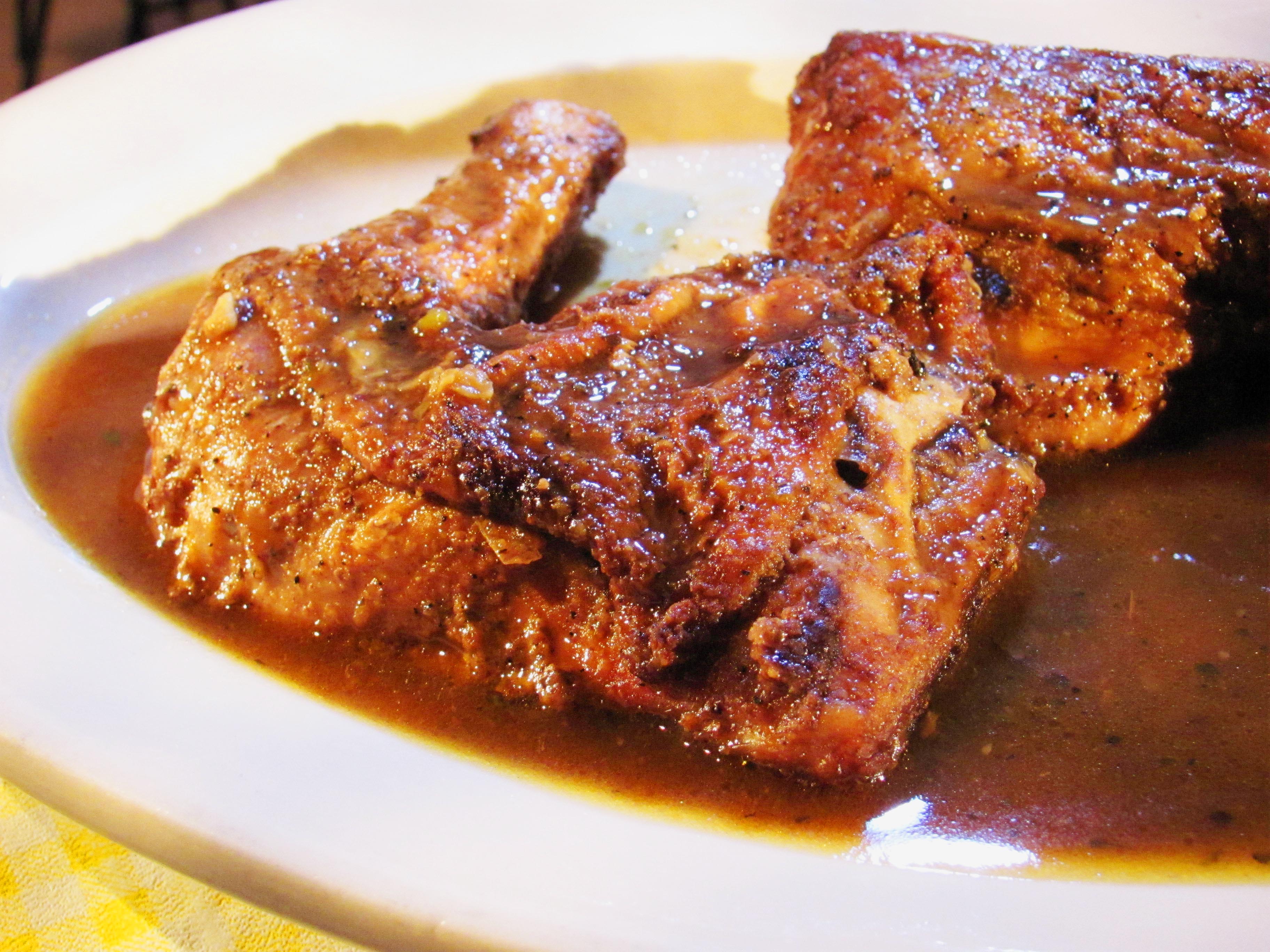 Ingredients:
1 large chicken, cut into serving pieces
2 large onions, diced
1 large bell pepper, seeded and diced
3 cloves garlic, minced
3 tablespoons red recado paste (mix a bit of paprika with cayenne pepper as a substitute)
1 tablespoon coconut oil
1 cup water
Salt and pepper to taste
Directions:
Heat the coconut oil in a heavy pan or deep skillet, then brown the chicken. Add onion, bell pepper, and garlic, stirring until onion softens.
Add red recado, stir, and begin adding water until chicken is almost covered.
Reduce heat and cook slowly to stew, about 45 minutes to an hour, stirring occasionally and adding water as necessary.
Serve immediately or make it ahead of time – it gets better as it matures.
We serve this with our coconut milk-based rice and beans, and Belizean potato salad.
How do approach expanding your menu?
We look to our customers for inspiration – they give us wonderful feedback. If they offer a suggestion, and it sounds doable – we'll give it a try! Oxtail, which is tricky to prepare – was a customer suggestion, and now it's a best seller. We've recently added jerk tacos, topped with cilantro and onions – which have really caught on.
We receive a ton of 5-star feedback on your Fooda popup – what advice do you have for people wanting to try popups?
Have a really good system in place to create the best experience for your customers. Know that not everything that works well in your restaurant will work in a popup setting. Bring food that travels well and will make its mark – letting popup customers get a taste of what you're all about.
Hussein, thank you for taking us on a flavor trip and sharing your passion for Belizean people, culture, and food with us. Give Garifuna Flavor a spirited thumbs up on Facebook and get in line early for their next event.