The Secret to Philly's Best Fried Chicken? Wishbone Shares Top Ingredient
It's 3am on Saturday at Wishbone Crafted Fried Chicken and the line is out the door. The cooks are singing with customers and the smell of fried chicken and homemade mac n' cheese fills the air. This late night hot spot is really where memories are made and bellies leave happy in Philly.
Wishbone was founded by two Pennsylvania natives and fine dining chefs, Alan Segel and Dave Clouser. Alan and Dave were on a mission to make fine dining more approachable. So much so, they both moved to France to study different culinary techniques. It was in France that they quickly learned fried chicken is one dish every culture and country has around the world.
Years later, using their culinary knowledge and the quick service sector for more relatable and affordable food, we have Wishbone. After opening in October of 2013, the principles of cooking from scratch, fresh every day, with recipes that are creative, modern and delicious, still ring true. General Manager, Erica Hope, shares the backbone behind Wishbone and the secret to their Best of Philly Chicken Fingers.
What drives Wishbone's creativity?
Our customers. Listening to our guests has given us exactly what we have today. When we originally started, our menu only consisted of fried chicken and mac n' cheese. By listening and building relationships with our customers, we now offer so much more, including biscuits, corn bread, sandwiches, salads, and dessert. We recently even started offering 200 different craft bottled beers for our guests to pair with their fried chicken! We enjoy the challenge of providing what our customers want, and if you're a true American innovator, you need to have that quality as well.
Wishbone was recently named Philly Magazine's Best Chicken Fingers. What's your secret?
We were truly surprised by this great honor. It was really cool because we even catered the launch party without us knowing until we walked in! I believe our chicken stands out because it is all butchered, battered and brined in-house. The flour we use has 17 different spices. If you slap the flower, it will literally make you sneeze because there is so much flavor in it! The final step for our chicken fingers is grinding and applying in-house pretzel crust, giving the chicken a phenomenal crunch. Even if you have our our chicken catered or delivered, the pretzel crust preserves for juiciness of the chicken and stays crunchy, unlike a panko or tempura crust. For the modern and fast moving consumer, it works.
What dishes can't Wishbone live without?
Hands down our mac n' cheese. It's made with a variety of cheeses, fresh herbs and topped with a pretzel crust. We weigh it out deli style and often serve by the pound(s). For late night, especially after a beer or two, there's nothing better on earth than our mac n' cheese.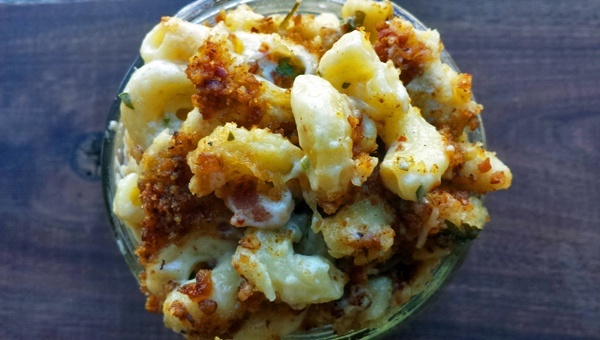 Also, the unctuous BLT with its homemade maple-bacon mayo and our homemade raspberry-lemon cheesecake pie (cheesecake is baked off in store, whipped when cool and piped right in a puff pastry crust. IT IS BANGIN!).
What is one Yelp review that is untrue about your food?
That customers must order an entire pound. The very genius behind weighing out the food is that one is able to order as much or as little as they like. Whether, one piece or 27, we can make it happen!
What advice do you have for other restaurateurs?
Go fresh. Even if it takes a little more time, make your own chicken stock, roll your own dough, set your own table. You and your guests will appreciate the difference. Also, don't be afraid to expand. If you offer catering, remember this is still an extension of your brand, so make the display gorgeous and make sure your food can travel before going the distance.
Wishbone has now expanded to two locations and offers both catering and delivery. Whether you're eating for lunch or late night, you're sure to leave with a lasting memory that will have you coming back for more. Stay in the loop with all things Wishbone by following them on Instagram and Twitter!